Hello everyone! So, lists of monthly favorites are some of my favorite blog posts to read and YouTube videos to watch, and I'm not entirely sure why I haven't written one myself yet! If you guys like these kinds of posts as well, let me know and I can try to write them more often.
Here are some of the things I'm loving this summer!
1. Gingham
If you follow any kind of fashion blogger on Instagram or have gone shopping recently, then you know gingham is in right now. I, for one, am so here for it! I recently purchased a gingham bag, which I posted on Instagram, and I am obsessed with it!
2. The Office
I was pretty late in the game and started watching the show a few months ago. I'm currently watching it for a second time (I couldn't resist) and it is just so good! I actually joined a Facebook group for fans and it has not disappointed! If you haven't watched the show yet (if there still is anyone out there!) then I highly recommend!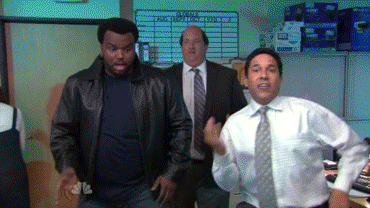 3. Neutrogena Light Therapy Mask
I started using this mask a few weeks ago and it is just so intriguing to me! You are supposed to use it for 30 days, 10 minutes a day. I'm almost halfway through and am really interested in seeing if there's a big difference in my skin at the end! I plan on writing a post when I'm done with the 30 days, so keep your eyes open in a few weeks for that if you're interested!
4. Green Tea
Lately, I've really gotten into green tea. Since it's summer, I've been drinking it iced every morning at work. I brew about a quart and then put it into a container and keep it in my fridge during the week. It's a great way to get a little bit of caffeine in and green tea has a decent amount of health benefits, which is a plus!

5. Les Mills Body Combat
My local gym uses Les Mills for their group classes, and I've been going to Body Combat twice a week. It's basically a cardio kickboxing class and it's so fun! It's super intense and I'm always dripping in sweat by the end of the hour and I feel so good and so strong!

---
So, there you have it; my summer top five! Again, if you'd like to see more of these posts or if you'd like another topic covered, let me know in the comments or social media!